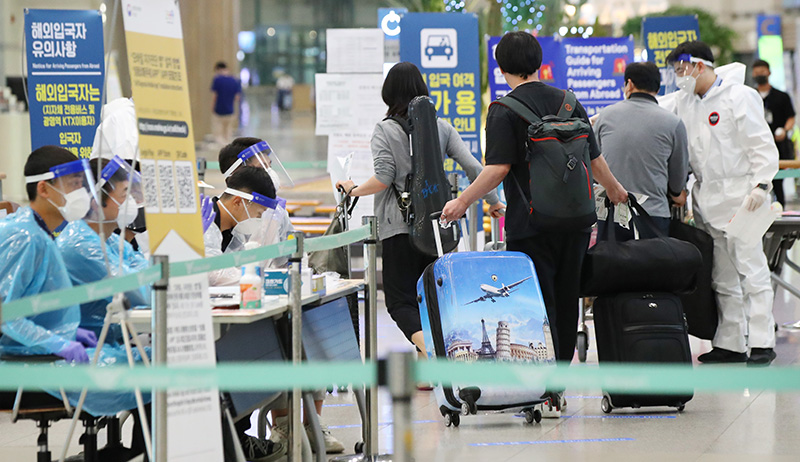 Inbound travelers are required to do 14days quarantine upon entering Korea
All inbound travelers (including returning Korean nationals) are required to quarantine themselves for 14 days upon their arrival in Korea starting from 01 April 2020.
Self-quarantine is only allowed to Korean nationals and foreign nationals who reside in Korea at their place of residence for 14 days.
Korean nationals, and/or foreign residents whose place of residence is deemed not suitable for quarantine, and Foreign nationals who have short-term visits to Korea, will serve the quarantine at a designated government facility at their own cost (KRW 1,680,000 per person). The Agreement to Facility Quarantine must be completed and submitted to the airlines. See attached file "The Agreement to Facility Quarantine" below.
Quarantine facilities are randomly assigned and cannot be changed for personal reasons.
Transportation from the airport to the government facility will be provided.​
The spouse and lineal descendants of Korean national or long-term residents of Korea may self-quarantine in the Korean national/long-term resident's place of residence instead of government facility by providing official family relations documents.
Lineal descendants refer to direct lines of descent such as grandparents, parents, children. Siblings are not included.
Exceptions
A-1, A-2, and A-3 visa holders with negative test results from COVID-19 diagnostic testing will be subjected to "Active Monitoring" (instead of 14 days quarantine), which includes daily submission of health status information via the 'Self Diagnosis App' and phone calls from health authorities throughout their stay in Korea.
All inbound travelers will be tested within 14 days of arrival
Starting from 11 May 2020, all entry procedures will be further strengthened. ALL inbound travelers will be tested for COVID-19 within 14 days of their arrival regardless of symptoms being present/absent.
Due to continuous importation of COVID-19 cases from Europe and the Americas, the number of imported cases from the Middle East and Africa has also increased recently.
Vessels/Cruises/Ships Crew members to be tested for COVID-19 and 14 days quarantine
   With effect from 06 July 2020, all crew members who disembark from vessels/cruises/ships will be tested for COVID-19.​
   With effect from 13 July 2020, all crew members who disembark from vessels/cruises/ships will be required to serve 14 days quarantine.
Enhance testing for those who quarantine at government facilities
Due to the recent increase in the number of imported COVID-19 cases, the Republic of Korea
will enforce more through COVID-19 testing for those in quarantine at a temporary living facility.
This measure intends to ensure early diagnosis and immediate treatment during the period of their
admission.
All residents living in temporary facilities except for those coming China and Vietnam will undergo three rounds of diagnostic testing upon arrival, on the tenth day of admission, and either on the fourteenth day of admission or upon exit.
​Incase of Foreign Nationals tested positive with COVID-19 ​
    In accordance with the revised Infectious Disease Prevention and Control Act (effective as of 12 August 2020)​, foreign nationals who enter the Republic of Korea and are tested positive for COVID-19 within 14 days of entry (i.e imported cases), will have to bear relevant costs in whole or in part. The new measures, which will be applied to foreign nationals entering Korea from 24 August 2020 (measures regarding causes attributable to individuals are effective as of 17 August 2020), have been introduced considering the principle of reciprocity and will be periodically reviewed. For details, please refer to here (click)
Introduction of safety wrist band for non-compliant quarantine subjects
​   Effective 27 April 2020, a person in quarantine who violates quarantine guidelines will be required to wear a safety wrist band. Those who refuse to wear the safety wrist band will be transferred to a designated quarantine facility and may be required to pay for the use of the facility. Please refer to attachment for details "For Entrants to Korea Instructions for Quarantine Subjects"
---