Day trips from Jeju City
Travelers wanting to get up close and personal with nature should plan on taking a few day's trips from Jeju City. Many of the island's top destinations can be reached by bus or taxi in less than two hours, and several attractions have nearby accommodations.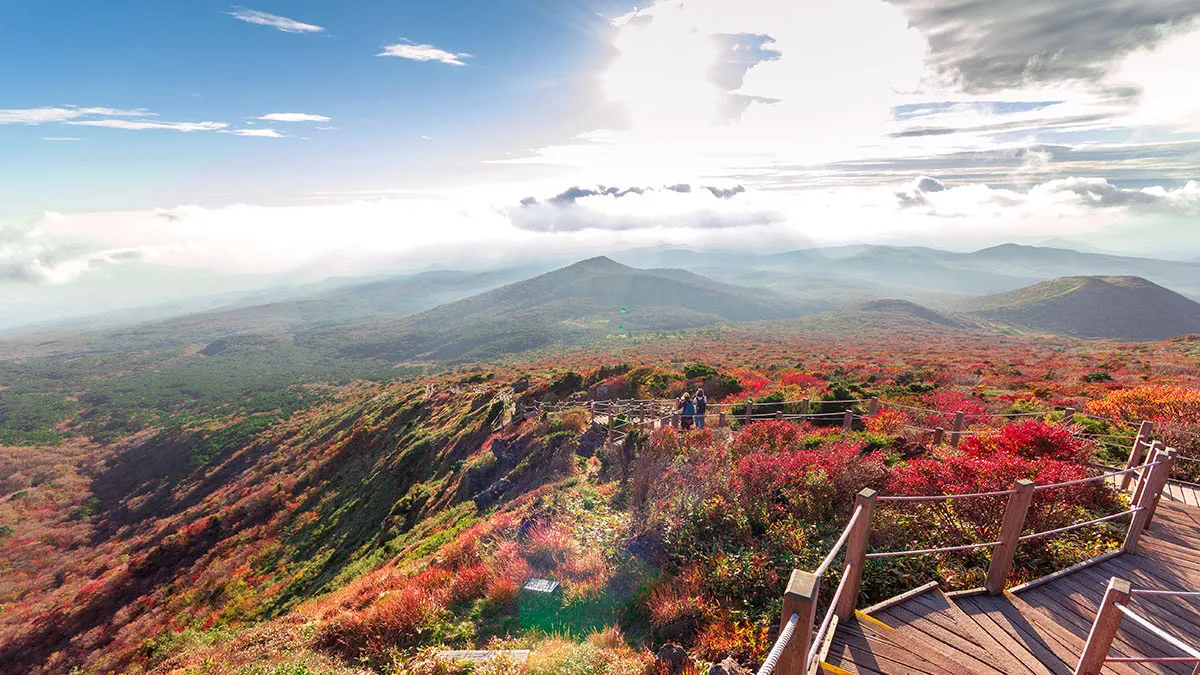 • Hallasan - A shield volcano and the highest peak in South Korea, Hallasan is located in the middle of the island and is open for daytime hikes. The mountain makes up Hallasan National Park and contains scenic foliage year-round. It also is listed as a UNESCO Biosphere Reserve. Hallasan features several hiking trails that range from short one-hour walks for beginners and laid-back backpackers to long 10-hour hikes for die-hard trekkers.
• Seongsan Ilchulbong (Sunrise Peak) - is an extinct volcano on the eastern edge of Jeju Island. Travelers who arrive early can climb 99 steps to the top to watch the sunrise over the sea and then descend to the coastline to watch the haenyeo, or female free divers, bring in their fresh seafood catches for the day. After that, sit down to a delicious breakfast or lunch at the "Sea Woman Restaurant."
• Jusangjeolli Cliffs (Jusangjeollidae) - this natural phenomenon was formed from years of waves hitting the cliffside and shaping the rock into unique-shaped columns. Tour guides are available in the area, or guests can wander aimlessly around walking trails and nature paths.
• Hallim Park - this gorgeous garden complex contains waterfalls, caves, a small zoo, and a folk village. Plus, it's only a short walk to the twinkling white sands of Hyeopjae Beach. Hallim Park is open from 8:30 a.m. to 5:30 p.m. daily.
• Jeju Fork Village - a restored community, located on the southeast side of the island, features more than 100 homes and thousands of folk displays. The village is one of the best things to visit on Jeju Island: it's as educational as it is family-friendly! Jeju Folk Village is open from 8:30 a.m. to 6 p.m. every day.
• Yeomiji Botanical Garden & Cheonjeyeon Waterfalls - these neighboring attractions are well worth a trip to the southwest side of Jeju Island. Cheonjeyeon Waterfalls features three waterfalls that can be reached via hiking trails, and Yeomiji Botanical Garden is a large outdoor garden and greenhouse, perfect for a relaxing day of exploring South Korea's native flora and fauna. Yeomiji Botanical Garden is open from 9 a.m. to 6 p.m. daily.
• Manjanggul Cave - a designated UNESCO World Heritage Site and one of the most popular things to do in Jeju Island, Manjanggul Cave is a 7.4 kilometer-long walkable lava tube that contains natural cave formations (like stalactites and stalagmites) as well as an abundance of bats and insects! Manjanggul Cave is open from 9 a.m. to 6 p.m.