The area of Euljiro is full of history and trendy locations right in the heart of Seoul. The area is centered around Sewoon Plaza, a large commercial building built in the 1970s. As unique and trendy shops began opening alongside the old printing factory, lighting, and tool stores, this hot place received the name "hipjiro," a combination of the words hip and Euljiro. Here is a charming tour course perfect for a day trip to Euljiro.
10:00 AM Euljiro Alley Tour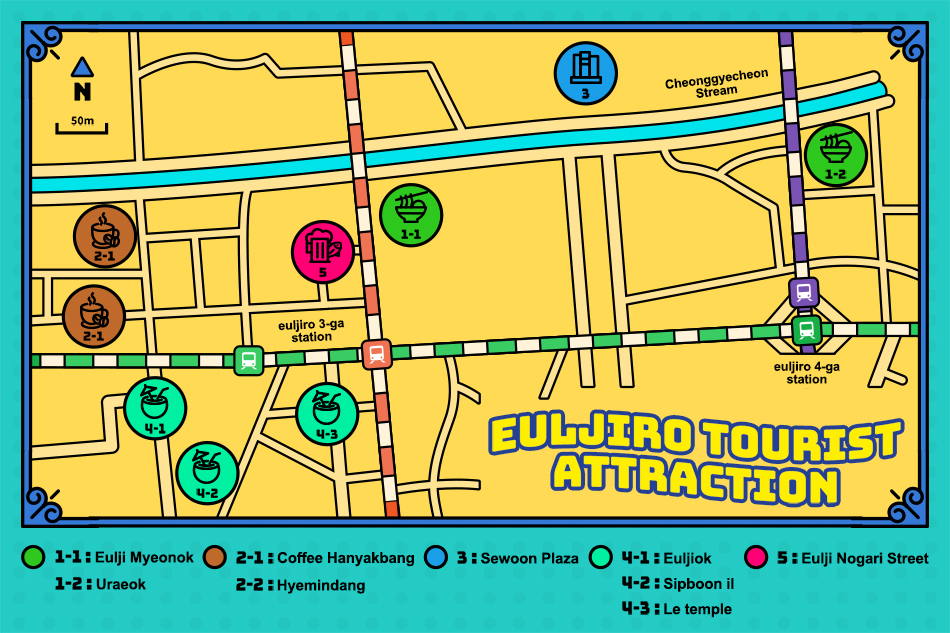 The Euljiro tour can start from any station connecting to Cheonggyecheon Stream on the Seoul Subway Line: Eujiro 3(Sam)-ga Station, Euljiro 4(sa)-ga Station, and Jongno 3(sam)-ga Station. Wherever the trip begins, visitors can reach all the major spots of Euljiro by following the countless alleys. The Euljiro area has an ironwork alley, lighting alley, and nogari (dried pollack) alley, making for a great sightseeing trip. Another method is by entering any alley and shop to each liking.
12:00 PM Bowl of Pyeongyang Naengmyeon
The area of Euljiro is also famous for its countless Pyeongyang naengmyeon (cold buckwheat noodles) restaurants. The cold and unique flavor of the soup is a special trait of Pyeongyang naengmyeon. The noodles go especially well with meat. Each store has a variety of selections from bulgogi to suyuk (boiled beef slices), pyeonyuk (boiled pork slices), and much more.