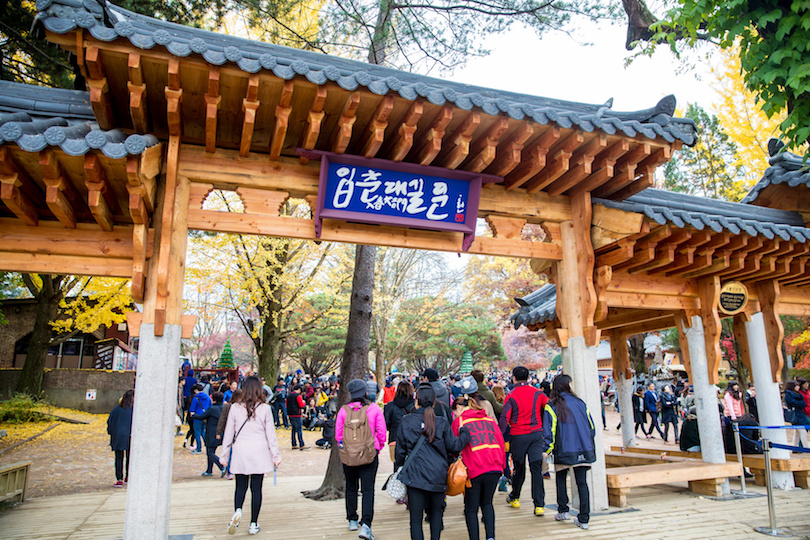 Surrounded by scenic lakes and towering mountains in Chuncheon, the capital city of Gangwon Province. Chuncheon is the location of a popular Korean soap opera called Winter Sonata, and a lot of visitors in the city come to see some of the most common filming locations.
The city lies in the north of the county, located in a basin formed by the Soyang River and Han River. There are some large lakes around the city, most notably Lake Soyang and Lake Uiam (or Dam Uiam). The area is renowned for its small river islands, such as Sangjungdo, Ha-Jungdo, Bungeodo, and Wido
Other travelers come for the food because Chuncheon is known as a foodie's paradise. After touring major attractions like the Soyang Dam, Statue Park, or Cheongpyeong-sa Temple, head to Dakgalbi Street. This street features the dish dak galbi, a grilled chicken meal with spicy vegetables and rice. Dozens of restaurants on the street offer the same iconic dish, each offering slight variations on the recipe.
It is a popular destination among east Asian tourists as it was featured in the popular Korean drama Winter Sonata). It is where the resort island of Namiseom is located.
Transportation
As of June 2014, there are two train stations in the Chuncheon suburban area: the terminus of the Gyeongchun Line, Chuncheon station, and the busier Namchuncheon station. Gimyujeong, Baegyang-ri, Gulbongsan, and Gangchon stations, all located in rural Chuncheon, attract tourists. Gangchon is one of the most favorite recreational destinations for university students.
The Gyeongchun Line is a double-track rapid transit commuter train that connects to Yongsan, Cheongnyangni, and Sangbong stations in Seoul. On 21 December 2010, a new realignment of the Gyeongchun Line was opened, and several new or transferable stations have since been opened to replace the existing stations outside Chuncheon, such as Cheonmasan, Sinnae, and Byeollae.
Food
The city was historically known as a chicken farming region and is famous for "dak galbi", which translates as chicken ribs. It consists of chicken, sliced cabbage, sweet potatoes, tteok (rice cakes), and scallions, mixed with a spicy sauce heavy on gochujang. It is usually cooked in a big iron pan in the center of the table, but the original method is over charcoal. Despite the name, the dish is traditionally made from leg meat, not ribs. There is even a street in the city dedicated to restaurants serving the dish, with some 25 restaurants populating the area.
Also, Makguksu noodle is famous among the nation.