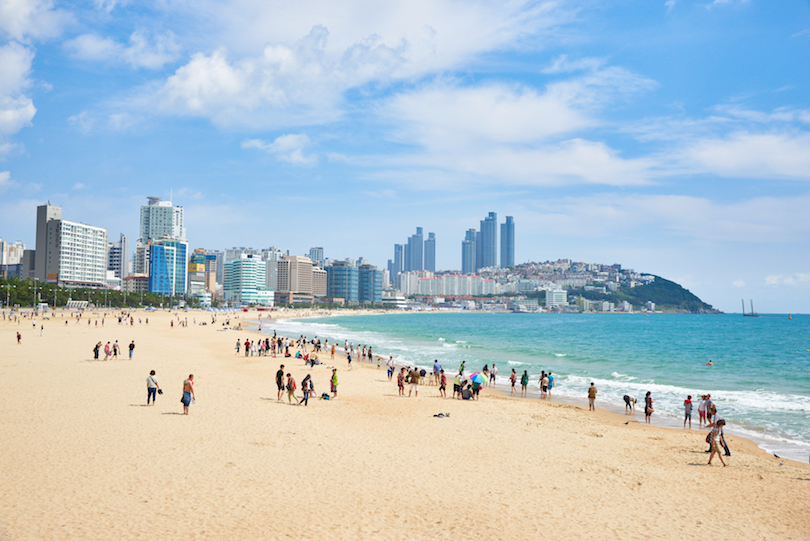 The second-largest city in the entire country is Busan. It's also a major port, and it is known for boasting beautiful beaches as well as hot springs, and opportunities for outdoor recreation. Busan's Gamcheon Cultural Village, known as the Santorini of Korea, is a stunningly colorful hillside community overlooking the water.
Busan is divided into 15 major administrative districts and a single county, together with housing a population of approximately 3.6 million. The full metropolitan area, the Southeastern Maritime Industrial Region, has a population of approximately 8 million. The most densely built-up areas of the city are situated in a number of narrow valleys between the Nakdong and the Suyeong Rivers, with mountains separating most of the districts. The Nakdong is Korea's longest river and Busan's Haeundae Beach is also the country's largest.
While in Busan, you'll also have the chance to visit several temples, the most popular of which is the Beomeosa Temple. While the city boasts all the shopping and museums you might expect from an urban area of its size, some of the most popular attractions include Haeundae Beach, Taejongdae Park, and the beautiful Nakdong River Estuary Migratory Bird Sanctuary.
Transportation
Major express bus lines link Busan with other cities in Korea at two primary bus terminals, Nopodong Bus Terminal  (at the northern terminus of Subway Line 1) and Busan Seobu Bus Terminal at Sasang Station on Subway Line 2. 134 routes of urban bus service reach every part of Busan Metropolitan City
Food
Busan was once a center of military affairs in the southern region of the peninsula and therefore was an important site for diplomatic relationships with Japan; high-ranking officers and officials from the court frequently visited the city. Special foods were prepared for the officers such as Dongnae pajeon (동래파전), a variant of pajeon (Korean savory pancakes), made with whole scallions, sliced chili peppers, and various kinds of seafood in a thick batter of wheat flour, glutinous rice flour, eggs, salt, and water.